Nationwide Custom Car Transport: The Batmobile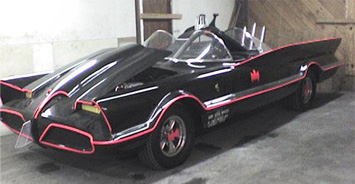 Who trusts us to transport the most valuable custom cars across the nation? George Barris, the king of custom cars and originator of the Batmobile that's who!
Transporting the Batmobile Across the Nation
New World Auto Transport was commissioned to transport the original 1966 Batmobile from New York to North Miami Beach, Florida, for the grand opening of The Michael Dezer Collection Museum. The car was custom designed from a 1955 Lincoln Futura concept car.
Barris and his team worked with 20th Century Fox to develop the car everyone grew to love in the 60s. The 1966 Batmobile is still wildly popular and highly collectible as an original, a replica, and even in model car form. Dezer is the partner of star businessman Donald Trump and is also the collector of over 1,000 rare cars. The Batmobile is valued at over $1 million.
Transporting Your Custom Car Means Just as Much!
We know your custom automobile means just as much to you, and that you want to protect it. I'm Steve Wells, owner of New World Auto Transport, and throughout 2012 I'll be touching base twice a month or so to share insights about the transportation industry and our custom transport packages. One of my favorite sayings is, "If it has wheels, we'll move it!" And we prove it!
Along with George Barris, other high profile names also rely on New World Auto Transport for the best service and customer satisfaction across the nation. Lyle Lovett trusts us to move his motorcyles. The Shell Houston Open trusts us to move carts and equipment. We've also moved equipment and vehicles for David Caruso of CSI Miami and the big screen features Fast & Furious, Transformers and The Expendables. You can trust us, as well! We are that good!
With over 35 years of experience in all aspects of the auto transport and auto shipping industry, we have the ability to provide you with expert knowledge. We provide customized enclosed auto transport equipment and technology, innovative customer service, and highly skilled carriers.
Nationwide Custom Car Transport Solutions
We also offer one-stop solutions for all your auto shipping needs including: Antique, Vintage, Hot Rods, European, Sports, Custom, Exotic, Luxury, Muscle, Motorcycles, Trucks.
I welcome you to call me, owner Steve Wells, directly at 832-437-2478 or email me at [email protected] for all your enclosed transport, open transport, dealer services, terminal-to-terminal, auction transport, motorcycle or ATV transport, Hawaii transport, Alaska transport and storage needs.
With New World Auto Transport, we will alleviate the common stresses related to automotive shipping.
CALL US AT
1-877-337-0879 OR
REQUEST A QUOTE