Nationwide Electric Car Transport
Tesla Electric Cars strikes up distribution deal with New World Auto Transport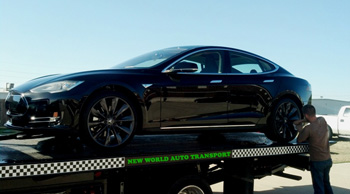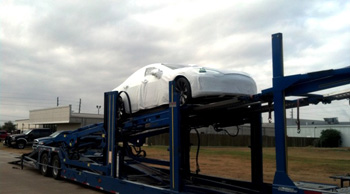 Since the beginning of the year, we've delivered a number Tesla Electric Cars around the Houston area, including to two local dentists were actually 67th on the global waitlist. Not only have we been distributing Tesla Electric Cars - and any other car that needs transporting - we have also recently launched out storage and concierge service, which allows us to house the Tesla cars as long as they need before distributing them out to their owner.
A bit about the Tesla:
When eyeing a Tesla for the first time, its sleek frame and luxurious aesthetics make it hard to believe that it's a fully electric car - it's easy to erase the thought of any current contenders on the market. On one charge the car can travel up to 300 miles versus the current competition's range of 70 to 100 miles. The car also features:
Cellular communication that directly connects you to Tesla headquarters in California
Active air suspension controlled on your 17" touch screen
All-glass panoramic roof with 98% visible light
85 kilowatt-hour battery (Model S)
Acceleration of 60 m.p.h. in 4.4 seconds
Dual motor all-wheel drive (Model X)
Streamlined, retracting door handles
Rear-facing child seat option, room for seven or 3.1 cubic feet of storage
Here at New World Auto Transport, we're ready to move any car you need - any where you need, within the continental United States. We pride ourselves in our integrity, and our ability to not only deliver your vehicle, but also deliver excellence in everything we do. We're ecstatic to work with Tesla Electric Cars, and can't wait to see how this business agreement prospers.
With New World Auto Transport, we will alleviate the common stresses related to automotive shipping.
CALL US AT
1-877-337-0879 OR
REQUEST A QUOTE