We all love cars, but the majority of us drive mid-range autos . . .  while our celebrity clients may own Ferrari, Lamborghini, Bentley, Aston Martin, Mercedes or Porsche luxury autos. New World Auto Transport is everyone's answer for reliable, honest auto transport service.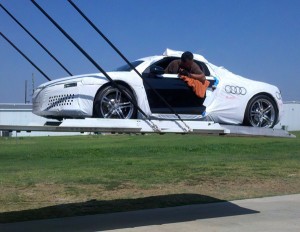 Celebrity Auto Transport Services
Some of our most sensitive auto transport assignments involve celebrities, who are often car collectors or car enthusiasts. It is likely that muscle cars, hot rods, custom cars, antique cars, sports cars or motorcycles — even golf carts — need transported from one end of the country to the next. We provide privacy and secure transport solutions personalized with each client in mind. The autos, themselves, may be customized with bullet proof glass, surveillance instruments or even panic devices.
Enclosed Transport
Safety and protection also comes in the form of our elite enclosed transport services, providing peace of mind to understandably nervous customers. We at New World Auto Transport understand and offer enclosed shipping that prevents weather and road wear from affecting the condition of these prized vehicles. An affordable price tag and high rated carriers who take pride in their auto transport expertise will make your experience with New World Auto Transport a positive one.
Everyone is a Celebrity at New World Auto Transport
Whether or not you are a celebrity, we'll certainly treat you like one! Steve Wells, owner of New World Auto Transport, is here to assist with all your auto transport questions. Please contact us at 832-437-2478 or email us at [email protected] for all your open transport, enclosed transport, dealer services, terminal-to-terminal, auction transport, motorcycle or ATV transport, Hawaii transport, Alaska transport, snowbird and storage requirements.