When New World Auto Transport delivered two local dentists' new Teslas to their home in the heart of Houston (pictured right), Dr. Hedge beamed and described it as the 'Apple' of all cars. The Tesla's sleek, luxurious lines, spacious interior- there's room for seven -and its state-of-the-industry software have redefined the household idea of 'electric cars'. The best part? New World is now the Texas hub to distribute, charge and store these eye-catching machines at our headquarters in Katy, Texas. Read: 'Early Adopters are Charged Up About Their Tesla Sedans'
Tesla and New World: The distribution deal
Last month, we delivered two Teslas to locals that had eagerly toe tapped and awaited their arrival for over four years. The Houston dentists were actually 67th on the global waitlist. We primarily distribute and detail these specific cars locally in Houston and surrounding areas such as Tomball, Sugarland and even Austin. However, don't hesitate to contact us for additional questions or quotes.
New World Storage and Concierge: Putting your prized baby to bed
Besides confidently and safely delivering your luxury ride, we have recently launched the storage and concierge side of our business. Whether it's a Tesla, Maserati or a 56′ Chevy, if it has wheels we will store and transport it regardless of make or model. For customers interested in storage, your business is appreciated whether you commit to one day, one month or many years. On top of storage, we also offer our concierge service. If you're craving that Sunday ride with the sunroof and your hair down, simply call and your car will be detailed and waiting. Pictured below: One of the Teslas waits to be delivered to our headquarters in Katy,TX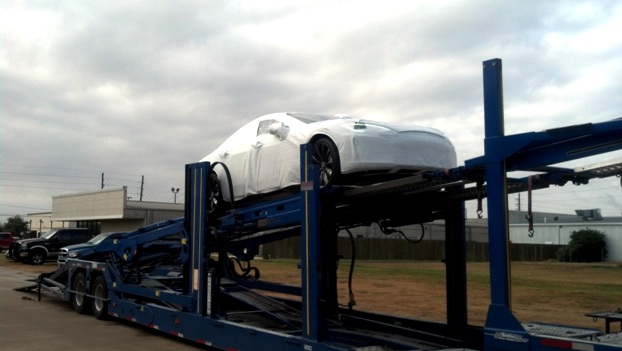 The Tesla: Not your average plugin
With one glance at the Tesla's sleek frame and luxurious aesthetics, it's easy to erase the thought of any current contenders on the market. On one charge the car can travel up to 300 miles versus the current competition's range of 70 to 100  miles. The car also features:
Cellular communication that directly connects you to Tesla headquarters in California
Active air suspension controlled on your 17″ touch screen
All-glass panoramic roof with 98% visible light
85 kilowatt-hour battery (Model S)
Acceleration of 60 m.p.h. in 4.4 seconds
Dual motor all-wheel drive (Model X)
Streamlined, retracting door handles
Rear-facing child seat option, room for seven or 3.1 cubic feet of storage
And there's much more to see
Pictured below: A Tesla waits on our rollback truck to be delivered to the driveways of Houston locals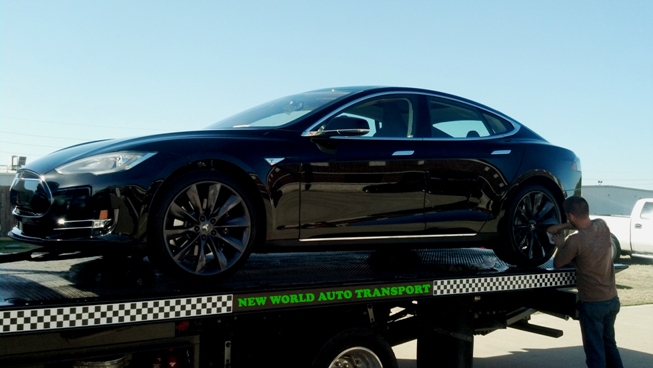 Let us help you distribute, store and charge into the future with your new Tesla, or any of your toys
We pride ourselves in our integrity and our ability to deliver not only your vehicles, but also excellence when it comes to our new, additional services. We're proud to work with Tesla, and if you'd like a quote for shipping or storing any of your cars or prized toys, we'd be happy to help however we can.