Steve was at it again this weekend, this time representing New World Auto Transport at the Dan Kruse Classics Auto Auction in Austin! Daisy and Steve had a blast hanging out with their friend John Paul DeJoria, owner of Paul Mitchell and Patron Tequila and Gary Spellman, owner of Ultimate Face cosmetics and curator of the Love and Peace Ride in Austin. Steve and Daisy were excited to be invited to the celebrity studded motorcycle event that's frequented by Jay Leno, Peter Fonda and Jesse James. They were even asked to transport Versace hotel owner, Toan Nguyen's, Bentley from West Palm Beach to Houston!
CLASSIC CAR AUTO TRANSPORT
When shipping any type of classic car, always be sure to hire a licensed, bonded and insured auto transport company like New World Auto Transport. We only work with top of the line, insured auto transport carriers that are highly rated. We even receive information from their insurance companies on a daily basis and work closely with Registry Monitoring Insurance Services, a company that tracks our carriers' insurance and verifies their coverage. We cover all our bases when it comes to our clients' vehicles and consistently treat them with professional care.
ENCLOSED CARRIER TRANSPORT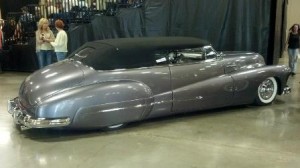 When shipping a custom car like the classics Steve and Daisy checked out at the Dan Kruse Classics Auto Auction, New World Auto Transport uses enclosed carriers that fully protect a vehicle from any "on the road" dangers.  Enclosed carriers come in soft-side and hard-side designs. Hard-side enclosed carriers are a great option for classic cars because they have a lift gate loading option that is more forgiving to low profile cars. Lift gate loading doesn't subject your vehicle to ramp loading, perfect for clients who don't want their custom car started.
CLASSIC CAR SHIPPING
If you need your classic car shipped whether to an auction or a new residence, New World Auto Transport has you covered! Call us toll free today at 1-877-337-0879 and don't forget to request a free quote!