NEW WORLD AUTO TRANSPORT
RUNNIN' IN THE HIGH-END FAST LANE
"ENCLOSED"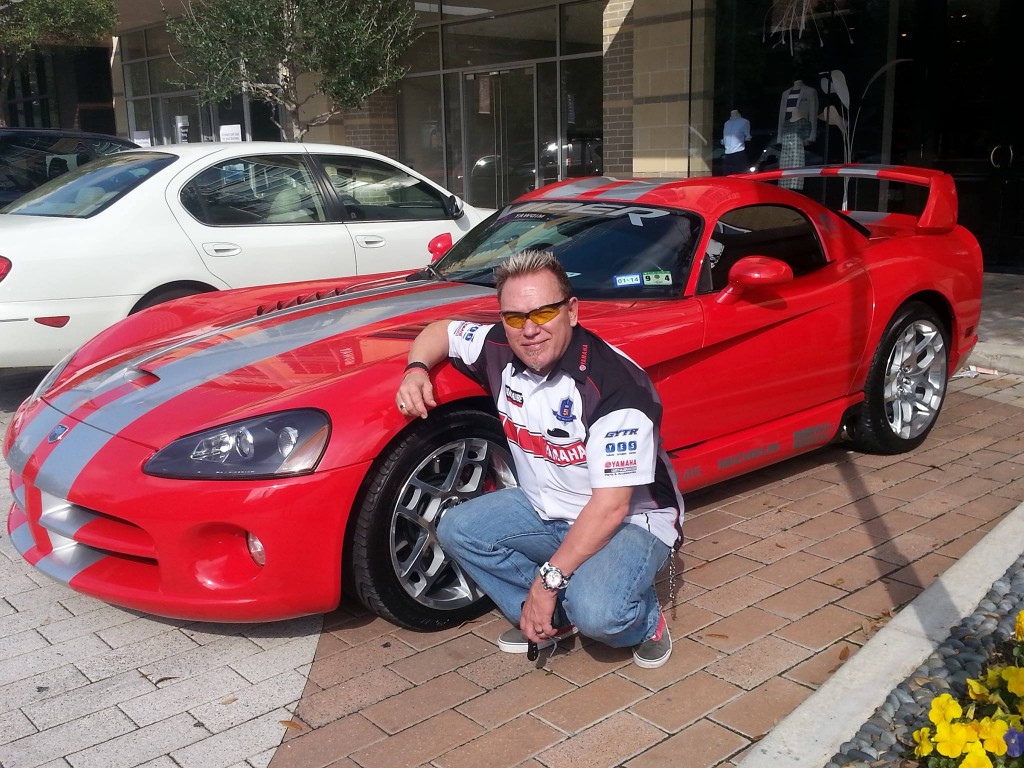 Owner/President/CEO Steve Wells relaxes by one of his Vipers at a local Houston hot spot
After a hard-felt Winter that hit mercilessly throughout our nation, the road ahead for NWAT is looking brighter than ever!
CEO Steve Hollywood Wells and CFO Daisy Wild Child Wells, along with all of the New World Auto Transport Team, would like to thank all of our customers and clients who have supported us over the years–2014 is going be a big one! Over the past winter break, we haven't let the winter freeze cool us down at all. In fact, we've trimmed up over the 2013 year. Our business skyrocketed dramaticlly, and it can only get better. In addition, we've maintained our Better Business Bureau A+ rating and continued to hold our position as a top 5 nationally ranked customer satisfaction company on www.transportreviews.com over the last year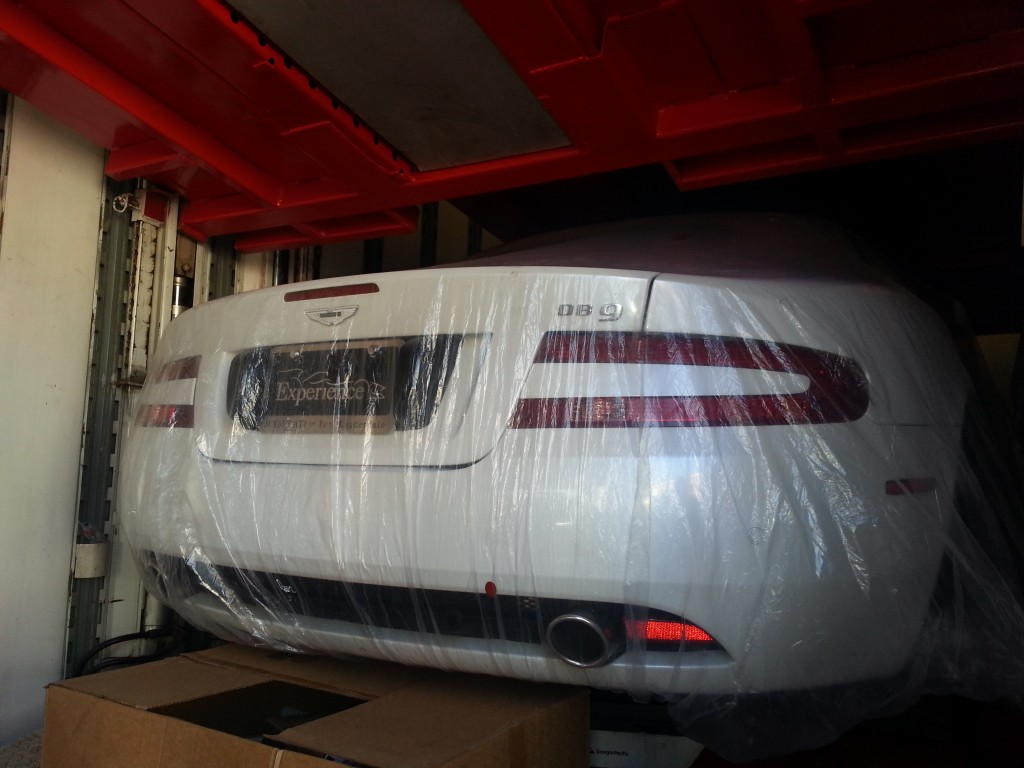 An Aston Martin DB-9, wrapped, strapped and ready to leave the NWAT headquarters in Katy, TX
Additionally, our New World Auto Transport white-glove concierge, transport and storage service has been getting amazing feedback, and has proved to be one of our hallmark additions to the company. Through the development of this project, we are building up our already stellar relationship with high-end auto dealers, celebrities, and sports figures alike. We've also maintained our profession relationship with dealerships around Texas and the Houston area such as BMW North Houston and BMW The Woodlands, Southwest Infiniti of Houston, Lamborghini Houston, and Roger Beasley Porsche of Austin as well as a number of amazing new relationships we've built with other high-end automobile dealerships across the country.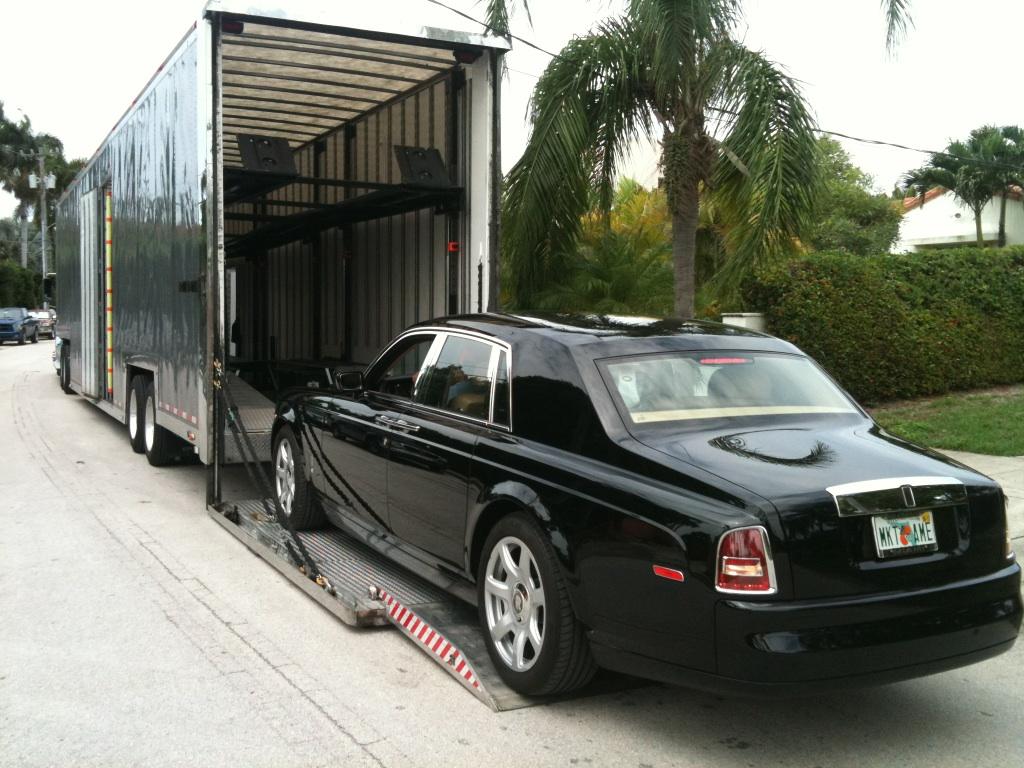 NWAT loads up a Rolls Royce in an enclosed hard-side lift-gate transport truck!
New World Auto Transport would also like to announce our classic muscle car transportation services. Transporting classic cars takes a special kind of insurance and coverage. New World Auto Transport guarantees that you'll always know who is transporting your prized possession. The New World Auto Compliance Department always has you and your classic car treasures covered.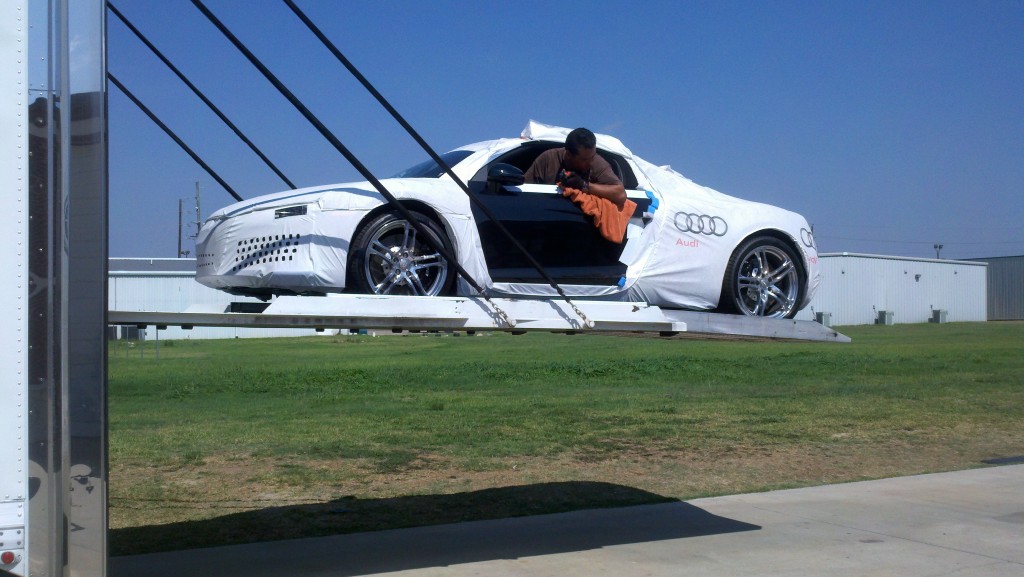 Loading an R8 Audi in the factory glove, ready to be transported.
NEWS FLASH
New World Auto Transport has turned a new leaf for the 2014 year, and is expanding, moving, and shaking dramatically. We can't wait to see what the rest of the year has in store for us, and to begin the On The Road Again travel series staring Steve Hollywood and Daisy Wild Child Wells again, as we frequent all sorts of events and hot spots. We've already scheduled appearances to the Lamborghini Festival, the Love*Peace*Happiness Motorcylce Ride in Austin, the Galveston Bike Rally, the Texas Off-Shore Powerboat Challenge in Clear Lake and the Marble Fall Lake Drag Boat races, among many others. We appreciate your business day-in and day-out, and from our family to yours, we hope 2014 unfolds to be the best year for all of us! Be on the lookout for our upcoming email newsletters and flashes throughout the year. If you need us, we'll be heating up and preparing for the rest of the year at our headquarters in Katy, Texas.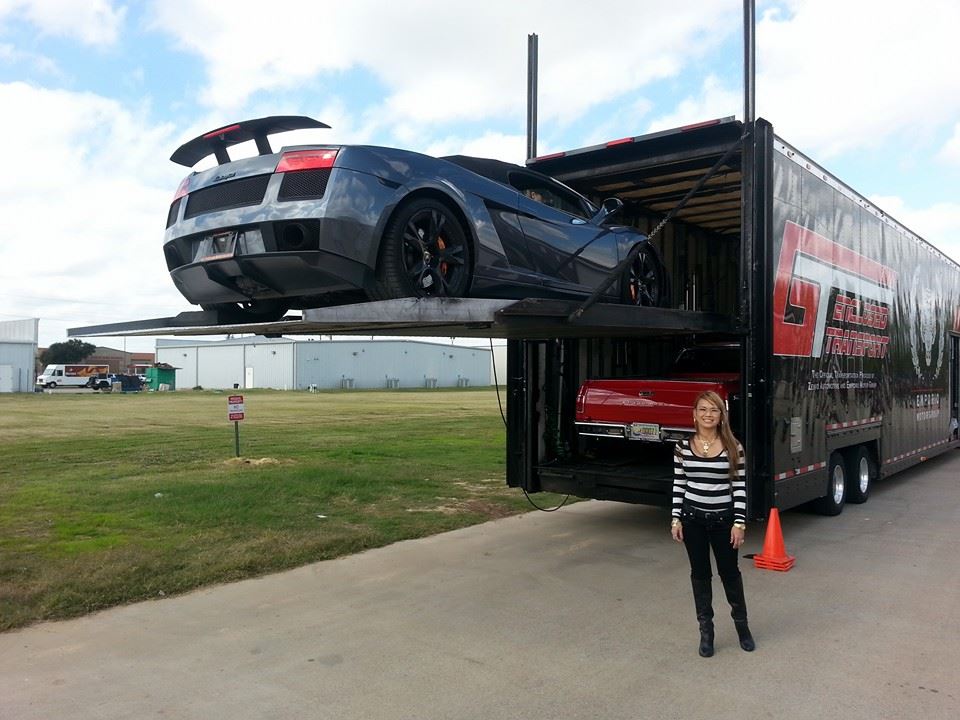 Owner, CFO and Vice President Daisy Wells supervising the loading of a Lamborghini Spyder as it gets ready to be transported cross-country from our Katy Headquarters!
Take care!
The New World Auto Transport team