NEW WORLD AUTO TRANSPORT
(On The Road Again…)

With Steve and Daisy Wells & Company

Summer's here and it's getting hotter!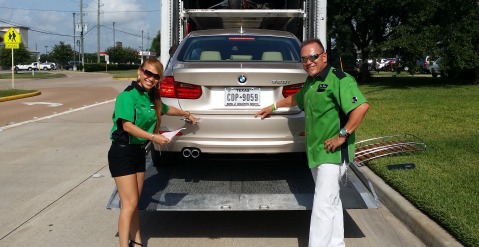 CFO and Vice President Daisy Wells and Owner/President/CEO Steve Wells load up and inspect a BMW at their Katy headquarters.
New World Auto Transport is heating up!
CEO Steve Hollywood Wells and CFO Daisy Wild Child Wells, along with all of the New World Auto Transport Team, would like to thank all of our customers and clients  who have supported us over the years–2014 has been a great year so far and it's only getting better! Our business is skyrocketing and the auto transport segment continues to grow, along with Katy, TX—Katy was named the fastest growing city in the U.S. by Forbes in January of 2013, and our business is seeing the benefits of this area's expansion. As more and more businesses are relocating to the energy corridor in Houston, Katy and the surrounding areas, New World Auto Transport is seeing a massive increase in our business as well.  There's so much happening on the scene right now from corporate relocations, college student migration, trade shows, car shows and dealer-to-dealer inventory exchange to automotive sales on the internet and more.

We transport college student vehicles as well as corporate relocation.Click the Links Above.
New World Auto Transport has been busy attending conventions, events and carshows as well! In the last few months we've attended both the Texas Outlaw Challenge Boat Event in Kemah where we transported our boat and other copmetitors' boats. We also made an appearance at the Indy Races Grand Prix in Houston where we transported equipment and display vehicles.

Steve and Daisy Wells posing (left) outside of the Reliant Stadium (right) for a car show.
New World Auto Transport would also like to announce our dealer-to-dealer services are bigger and better than ever. We'd like to give a warm shout out to some of our best partners in recent years: Southwest Inifiniti, and their General Manager, Billy Frank, and Trade Manager, Crystal Garcia, as well as BMW North and their managers Mark Gerloff and Steven Cook. New World Auto Transport has been honored to have such amazing partners in our dealer-to-dealer relations, and we hope to continue to build partnerships in the coming months.

Audis being loaded up at the New World headquarters in Katy, TX to be shipped out to their new home.
NEWS FLASH
New World Auto Transport has been ripping it up in 2014, and we can't wait to see what the rest of the year has in store for us. We're beginning a new chapter in the On The Road Again travel series staring Steve Hollywood and Daisy  Wild Child Wells again, as we frequent all sorts of events and hot spots. We appreciate your business day-in and day-out, and from our family to yours, we hope the rest of 2014 continues to be one of the best years we've ever had! Be on the lookout for our upcoming email newsletters and flashes throughout the year. If you need us, we'll be heating up and preparing for the rest of the year at our headquarters in Katy, Texas.

The beautiful Houston Skyline and the Allen Parkway.
Take care!
The New World Auto Transport team