At New World Auto Transport, we've been operating in the industry and with all things 'fast cars' for over 30 years. With all of our experience and successful miles under our belts, it's safe to say that nothing excites us more than positive recognition from our community and our customers. Earlier this month, our company was honored with a 'Winner of Distinction' award at the 2013 BBB Awards for Excellence. According to the bureau, we were chosen and honored because we have "maintained a superior commitment to ethics, overall excellence and quality in the work place."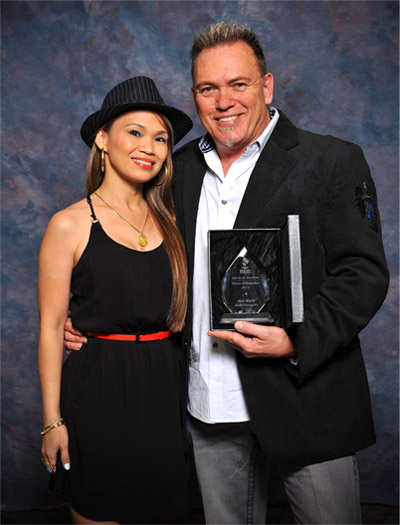 Thank you everyone for the ride that 2013 has been so far…
This year has already flown by with countless company memories, milestones and personal moments that include taking hot laps at the Circuit of the Americas and riding with John Paul DeJoria, Jesse James, and Robbie Kinevel on the backroads of Austin for the Peace*Love*Happiness tour.
January was a whirlwind. Besides opening up our New World Auto storage and concierge service, we also struck an agreement to become one of Tesla's electric car's distribution centers. We distributed Tesla Electric cars all throughout Houston and delivered them to many anxious customers including two local Houston dentists, who had waited a long four years to get in the driver seat. Read more…
In March, Daisy and Steve headed to music-city Austin to participate in the Rolex Series GrandAm race. Patrons were able to mill about with the drivers and their cars, and Daisy took a hot lap around the Circuit of the Americas track. Read more…
The New World Auto co-owners, Steve and Daisy, packed up and headed back to the heart of the Hill Country in March to rev up their Harley's for a police-escorted ride with John Paul Dejoria, Jesse James, Gary Spellman, Robbie Kinevel and the rest of the star-studded crew for the Peace*Love*Happiness charity, which honors and raises awareness for fallen officers. Read more…
NEWS FLASH
We appreciate your business each and every day. From our family to yours, have an incredible summer. Be on the lookout for our upcoming email newsletters regarding our amazing weekend at the Offshore Powerboat Regatta, where we got to hang out and show off our boat, and the Texas Outlaw Challenge. We'll be at our Katy headquarters or getting out to the lake as much as possible!